​​​​​​​
The antagonist of a dark opera becomes increasingly unsettled following the unlikely return of the former lead actor.
Co-directed with Mikai Geronimo at The National Film School, IADT.
9'47''. Scope (2:35), 25 f / s,  Digital 2D/Oil Pastel.
​​​​​​​​​​​​​​​​​​​​​
Selected for a World Premiere at the 
78th Venice International Film Festival.
Venice Film Festival Nominee for the 2021 European Film Awards.​​​​​​​
​​​​​​​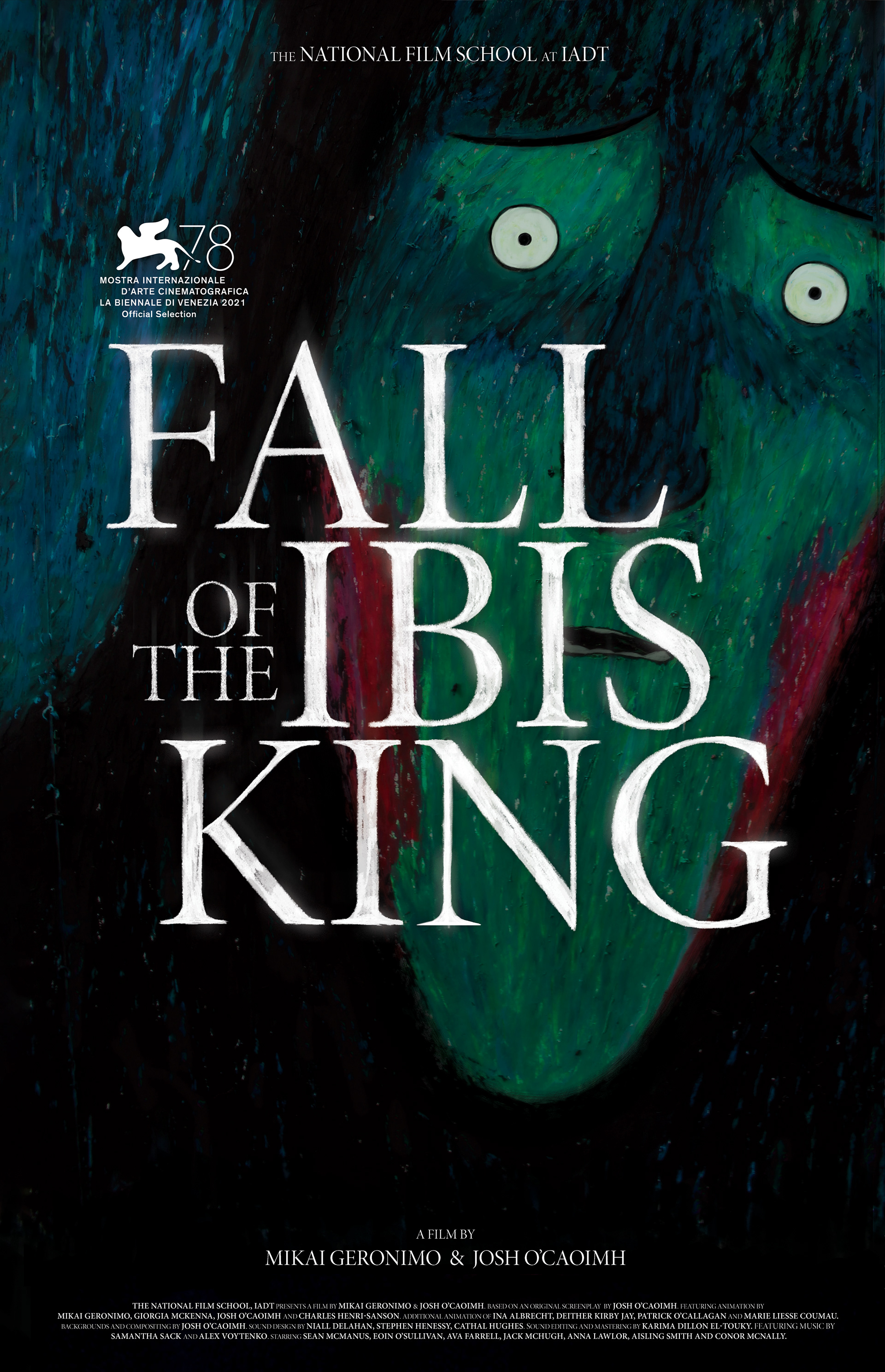 10/09/21 - Venice International Film Fesitval - Venice, IT
17/09/21 - Mladá kamera - Uničov, CZ
22/09/21 - Animasyros - Syros, GR
24/09/21 - Nottingham International Film Festival - Nottingham, UK
24/09/21 - Tirana International Film Festival - Tirana, ALB
27/09/21 - Viborg Animation Festival - Viborg, DK
29/09/21 - Bolton International Film Festival - Bolton, UK
29/09/21 - Woodstock International Film Festival - Woodstock, USA
01/10/21 - Vancouever International Film Festival - Vancouever, CA
05/10/21 - BALKANIMA - Belgrade, SRB
08/10/21 - Taichung Animation Festival - Taichung, TW
08/10/21 - Milano Film Festival - Milan, IT
09/10/21 - International Short Film Festival of Cyprus - Limassol, CY
18/10/21 - Canlandıranlar Film Festival - Canlandıranlar, TR
21/10/21 - TOHorror Fantastic Film Fest - Torino, IT
21/10/21 - Rabat International Film Festival - Rabat, MR
23/10/21 - SCAD Savannah International Film Festival - Savannah, USA
23/10/21 - Montecatini International Short Film Festival - Montecatini, IT
24/10/21 - Kuandu International Animation Festival - Taipei, TW
28/10/21 - Uppsala International Short Film Festival - Uppsala, SE
28/10/21 - International Film Festival Film Front - Vojvodina, CS
01/11/21 - Braunschweig International Film Festival - Braunschweig, DE
02/11/21 - Aesthetica Film Festival - York, UK
03/11/21 - Denver International Film Festival - Denver, USA
05/11/21 - Edinburgh Short Film Festival - Edinburgh, UK
05/11/21 - Seville European Film Festival (EFA) - Seville, ESP
07/11/21 - Cork International Film Festival - Cork, IE
07/11/21 - Ravenna Nightmare Film Festival - Ravenna, IT
08/11/21 - CINANIMA - Aveiro, PT
09/11/21 - Girona International Film Festival - Girona, ESP
09/11/21 - Belfast Film Festival - Belfast, IE
12/11/21 - PÖFF - Black Nights Film Festival (EFA) - Tallin, EE
13/11/21 - European Film Forum SCANORAMA (EFA) - Vilnius, LT
19/11/21 - GIRAF Festival of Independent Animation - Calgary, CA
19/11/21 - Shorts That Are Not Pants - Toronto, CA
19/11/21 - Chilliwack Independent Film Festival - Chilliwack, CA
20/11/21 - Cornwall Film Festival - Cornwall, UK
21/11/21 - İzmir International Short Film Festival - Izmir, TR
05/02/22 - Manipulate Festival - Edinburgh, UK